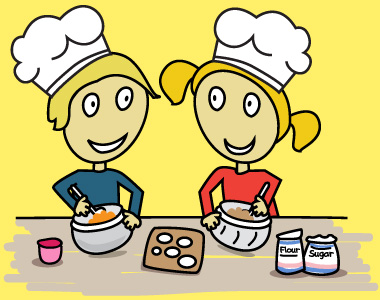 LITTLE SPONGES CHEFS - COOKERY CLUB (3.15 - 4.15 P.M.).
(This Club is available only to children who are enrolled at Little Sponges)

This is a fortnightly after-school activity from 3.15pm to 4.15pm. We cook a variety of recipes, both savoury and sweet, where the children participate in the food preparation including weighing, mixing, pouring, counting and cutting. They learn about following detailed instructions, and patience in waiting turns and letting the oven do its job. The sessions are a great success and thoroughly enjoyed by the children.

The dates of the cookery club from September 2019 to July 2020 are as follows:
2019

September

:

Monday 30th

October

:

Tuesday 15th, Wednesday 30th

November

:

Thursday 14th, Monday 25th

December

:

Tuesday 10th
2020

January

:

Wednesday 15th, Thursday 30th

February

:

Monday 10th

March

:

Tuesday 3rd, Wednesday 18th

April

:

Thursday 23rd

May

:

Tuesday 5th, Wednesday 20th

June

:

Thursday 11th, Monday 22nd

July

:

Tuesday 7th.
The cost of the session is £8.00 (payable on the day) and places are booked on a first-come-first-served basis by email. As spaces do fill up quickly, please advise as soon as you can if you would like your child to attend. Notice of cancellation should be given a day in advance to avoid the charge of the session being incurred and if a booked session is not attended for any unknown reason, the full charge will be made.